"Alpha and Omega" is a movie about two packs of wolves that live in Jasper National Park, Canada. It mainly focuses on two wolves called Kate and Humphrey. In the beginning of the movie you see Humphrey and his friends playing while Kate and Lilly(Her sister) are playing together. Then while humphrey is log boarding at the same time Kate jumps in mid air and humphrey is in mid air at the same time and they both hug each other. So this could possibly mean they were both boyfriend and girlfriend before they both went to Alpha and Omega school. After they landed on the ground Kate's Dad Winston was there and he told Humphrey that soon Kate would be a trained Alpha so he wouldn't be able to marry her. Then after he says that is shows the title and the movie begins.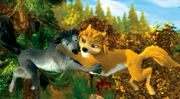 User Comments
Edit
Main Article:Alpha and Omega/comments
Ad blocker interference detected!
Wikia is a free-to-use site that makes money from advertising. We have a modified experience for viewers using ad blockers

Wikia is not accessible if you've made further modifications. Remove the custom ad blocker rule(s) and the page will load as expected.